Finds tab
The Finds tab is the first tab displayed on a user's Profile stats page. The page gives the number of caches that user has found, followed by information about the user's finds, as follows:
Cumulative finds by month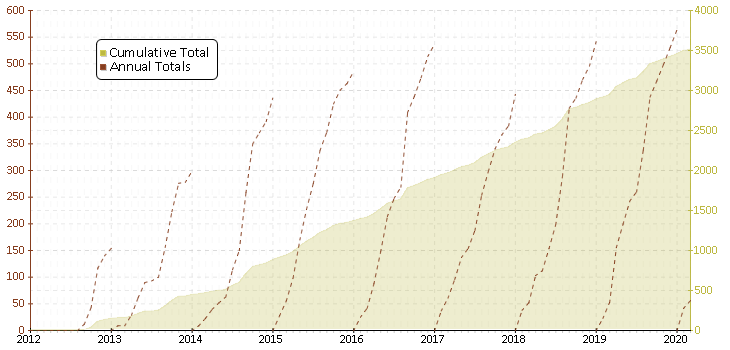 This is a chart of the number of caches found throughout the course of a year, shown as dashed lines for each year, which should be read against the left hand axis. The cumulative finds are shown in the darker shaded area of the graph, and should be read against the right hand axis.
Finds by month per year
Details to follow
Some numbers
Details to follow
Finds by type
Details to follow
Finds by size
Details to follow
Finds by difficulty rating
Details to follow
Finds by terrain rating
Details to follow
Average difficulty per year
Details to follow
Average terrain per year
Details to follow
Finds by month
Details to follow
Finds by weekday
Details to follow
Finds by year cache placed
Details to follow
Finds to date for each year
Details to follow
Difficulty / Terrain chart
Details to follow
Way to 81
Details to follow
Caches with most favourite points
Details to follow
Oldest caches found
Details to follow
Highest and lowest elevations
Details to follow
Finds by found date
Details to follow
Details to follow
Finds by owner
Details to follow
Collected attributes
Details to follow